Change Team Order – Fixture Integrity

When making a change to a fixture during a season you want to make sure that you don't make teams play each other again the very next week of your new fixture.
Rather than changing the fixture manually and breaking the integrity of the fixture we recommend you edit the team order.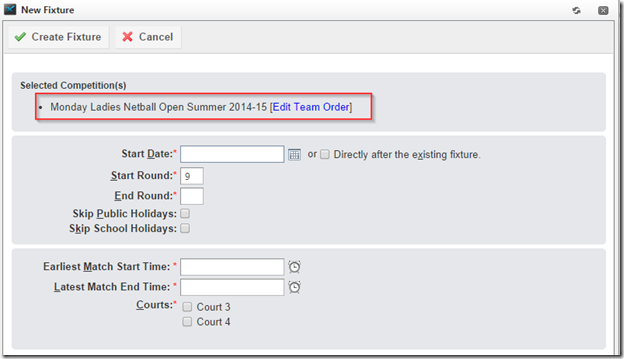 Our fixturing algorithm uses the berger system or round robin method to generate who will play who. So each team at the start of the season is given a number and each week team 1 will play against another team until there are no more teams to play and then it repeats. This ensures everyone plays everyone at least once (provided you allow enough rounds) and no team will play the same team again until they have played everyone.
When you add a new team into a competition the whole algorithm needs to change. Unfortunately it means that teams will play some teams more than once but you can at least try to avoid a team having to play the same team they played last week as this causes a great deal of frustration to your teams.
So to work around this FiXi allows you to change the assigned number against teams or what we call 'Team Order'. You can then preview what FiXi will generate for the future rounds so you can manipulate the team order until you are happy.
Using this approach ensures that from this point forward teams will continue to play each other in the correct pattern keeping the competition fair. Of course you can still change the fixture manually after the new fixture has been created but changing the fixture manually to specify who is playing who can lead to upset customers if not done right.